New Hampshire Nature Notes
by Eric Orff
And the summer sizzle is on.
Friday 07/10/2020
Even though this week has been pretty hot and sticky I'm happy to report that we seem to be out of our drought conditions for now as we've had a couple of good downpours in the last week or so. Yeaton's hay field across the way has once again turned emerald green compared to the first couple of weeks after he chopped it as it was very brown for at least two weeks. Can't cut hay that does not grow. So I'm hoping that this rain every few days will keep his grass and corn growing. All our dairy farmers have been struggling hard, especially with the pandemic dropping milk prices, so watching that field green up has been a blessing. Indeed his cattle corn has shot up a lot in the last couple of weeks. The remnants of the tropical storm we are supposed to get tonight will certainly bring our brooks back to life.
And speaking of lives. Where did my chipmunks go? I headed to my camp in Maine a week ago today on the 2nd. I can tell you that all spring we, like everywhere else, have had a ton of chipmunks. I could set on my front deck and pretty much see a chipmunk full time. I'd say there was close to ten out front of my house and a similar number in back. There was constant chipmunk traffic. When I got home Sunday afternoon the 5th they were gone! In more than an hour and a half of setting on my front deck reading and then for an outdoor meeting with Bear-Paw Regional Greenway staffer Katrina Amaral I saw but one chipmunk. Where did they go? What happened to them? This is a dramatic change in just four days. It has me scratching my head trying to guess what happened to them.
And so wildlife has constantly posed mysteries to me my whole life. As the Fish and Game Department's first black bear biologist I spent over two decades trying to figure them out. There is just so much we don't know about wildlife and the reasons things happen the way they do. I'm still perplexed about the huge gray squirrel explosion that happened two years ago. On I-393 in Concord from the Eastside Drive overpass to the Merrimack River on the west bound lane I counted 100 dead squirrels one day. I have yet to get what I consider a most likely reason for that huge spike and then mortality in the population that year. I have lived in New Hampshire nearly 60 years and I had never witnessed anything like that before. So what was up with the squirrels then and the missing chipmunks now?
I witnessed another explosion of wildlife that i had never witnessed before when I went to camp last week. There on the coast of Maine, well actually eight miles from the lead of tide, there was an explosion of slugs. I mean hundreds of them around our camp. They were crawling on everything in numbers and the grass had huge numbers all around the camp. It did rain a bit so maybe that brought them out. Again nothing I had ever seen in my near 70 years of observing wildlife. So what was up with all the slugs? Riddles, riddles, riddles and more riddles to try to explain. Isn't life wonderful when there are so many things to learn things about.
Looking out my office window now I can see the catbird robbing me of those blackberries I have had my eye on for a few days now. Although my crab apple tree is fruitless this year. So what's up with that? See another question. So look out your window, or better yet get outside and try to figure something out. I have said for years that I try to make at least one observation a day to learn something new. And if I'm struggling with a though, well now, I just get out my smart phone, to help me figure things out. So now that I'm 70 I can dig way deeper into the world around me with new things to learn thanks to my phone. I end up digging deeper into things several times a day now. Plus I can open up Google Maps to look at where I am and what is around me to help make more sense of what I am seeing. There is just so much more to learn the older I get.
Now that we have the chipmunks, squirrel and slugs out of the way. I don't have a lot of other wildlife sightings to report. Well there was that clutch of turkeys pots down the road. They were off in the high grass roadside. I'd say about a half dozen pigeon sized polts with mom. Except one robin sized runt of a turkey. Its hard to believe he hatched out with the rest of them. Did mom pick up an orphan? See another question. Do hen turkeys adopt orphans? More questions.
I did get down yesterday for a short hike in Bear Brook State Park. It's just over a mile from my house. I have been going to the Park nearly 60 years now. When I was working at Fish and Game my work often took me there. I released one bear, several deer and some moose there. So in a way back in the early 1980's I put bear back into Bear Brook State Park after they had been absent there for over a century. It was a rehabilitated female yearling. I put a temporary radio collar on her using a rubber spacer that would allow the collar to drop off after a few months. I could ping her from a distance so I know she basically stayed in the park all that summer so I'm guessing never left. So she was likely the first resident bear in the Park in a century. New Hampshire had around two thousand bears then and hardly any south of the lakes region. Now we have around 6,000 bears nearly statewide. I hiked to one of my favorite spots where Bear Brook tumbles through some granite blocks. Oh how peaceful it always has been there. Such a special spot.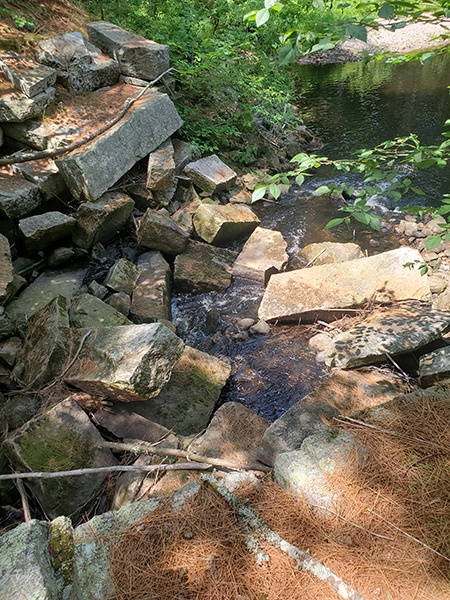 ---
Previous Note
2020-07-09
Where did the chipmunks go? (VIDEO)
Next Note
2020-07-14
What's that Smell? (VIDEO) Someone illegally dumped fuel oil on New Hampshire Fish and Game Department Land.
read the note