Solving Problems with Nature - Naturally


ERIC P. ORFF
Certified Wildlife Biologist
Wildlife Author - Wildlife Lecturer - Wildlife Photographer
Non-Lethal Control of Bats since 1983
nhfishandwildlif@aol.com
NH Nature
New Hampshire Nature Notes by Eric Orff
Friday 11/09/2012 Flip switch on, we have snow, 12 hours later, switch is flipped off and the snow is gone.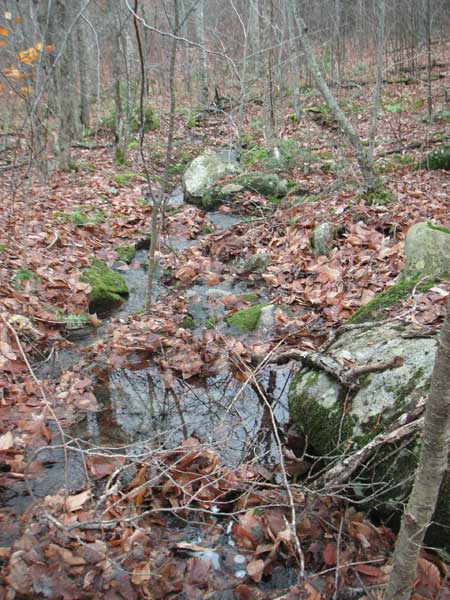 Awe yes New Hampshire. We've had some pretty cold mornings lately and awoke to three or four inches of wet snow yesterday morning. I finally broke free of chores to go out and get my muzzle loader license for some hunting on the snow. Just HAD to do it as with the warm falls of late this might just be the only deer snow to hunt on. So out I went for at least a couple hours of snow hunting. Snow brings magic to the woods. Tracks jump out at you from a distance. And yesterday's view was of turkey activity all through the woods, before the snow came, but still very evident. Turkeys had scrapped up the leaves below about every white oak I happened by. But suddenly there they were, a whole mess of deer tracks headed across the hill. Not minutes fresh but still it was nice to hop on a bunch of deer tracks to see what they were up to. It's just fun to see which way they go over, under or around an obstacle and such. A couple of them seemed to want to climb the high ground on the sides of the deer trail whenever they could seek a height advantage. But then it was time for me to head down the hill and back home for a mid afternoon appointment.

And by first light today, the snow has completely gone. Growing up in the 70's you could pretty much count on snow for a good part of the deer season. Not any more. About the only thing we can count on now is numbers of ticks, which were completely absent from the woods in my youth in New Hampshire.

Last week a day after Sandy swept through I grabbed a few days to head up to my camp in Maine to close it up for the winter and get at least a couple of days of deer hunting in there. Dew no doe tag this year so it was horn hunting for me. The tropical air was abundant even after the storm and the lake came up some three or four feet and the road across the swamp was again swamped. No problem during daylight hours as you can see the road under the water pretty well. But after dark it is more like braille in a truck feeling the road as I crossed. A foot or two on either side are drop-offs into the swamp.

How I love the smell of the Maine woods. Just a few feet from camp's door I began to siphon the fresh balsam fir smell from the air. It instantly puts me back close to 60 years ago when we lived in Maine not far from camp. And of Christmas then. Fir is Christmas to me and I anticipated this day's hunt like a child on Christmas morning. There is just something about deer hunting that brings you deep into the woods in mind and body. Your eyes, ears and even smell are put on full alert. Everything is studied and has meaning. Old or new deer tracks, the direction of the wind, where the sun is in the sky, picking a path through the woods ahead every few steps. Deer hunters absorb everything about the woods about them. I took a few minutes to just sit and listen and gaze at a small Sandy formed brook flowing down of a small hill. How that moment so easily comes to mind when I think of this years "Maine deer camp". I just can't imagine not being a hunter. Oh and I did see deer, three of them late one afternoon, just no antlers were visible.

Sandy did strip most of the leaves from the trees but the fields are by and large still green with more of a summer than winter look about them. Birds, except crows are scarce save for our winter birds blue jays, chickadees and titmice. All is well here in Epsom.
---
Previous Note

2012-10-26 A murder of crows at hand.

Next Note

2012-11-30 Tis' the Season for Greetings