Solving Problems with Nature - Naturally


ERIC P. ORFF
Certified Wildlife Biologist
Wildlife Author - Wildlife Lecturer - Wildlife Photographer
Non-Lethal Control of Bats since 1983
nhfishandwildlif@aol.com
NH Nature
New Hampshire Nature Notes by Eric Orff
Wednesday 03/14/2012 Back from summer-like temps in Florida only to have them here next week.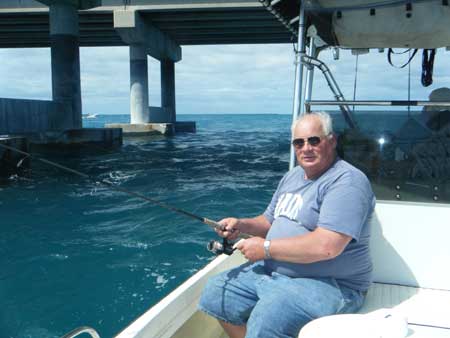 I headed off last Sunday for a few days of fishing in the Florida Keys, joining my son-in-law, Derek, on his annual trip This was my first trip to the Florida Keys fishing. We flew in to Ft. Lauderdale by 11 on Sunday and soon I realized just how far out in the Gulf the Keys extend. While we didn't get the 156 miles to the end at Key West we stopped at Big Pine Key about 20 miles from the tip. But it sure is a long way out to sea. At times if you just glanced right or left at the sea it carried off to the horizon on both sides. Kind of like being on a ship out to sea, minus the waves. I did see some huge splashes at times from jumping fish which I guessed to be tarpon.

And what a history the road and sometimes old RR bed is. Flagler built the over seas rail road from the tip of Florida to Key West in something like six years completing it in 1912. The remains of the old rr bridges and bed run parallel to Route 1 except when they are one in the same. What a marvelous accomplishment so long ago.

We stayed at Derek's long time friend Bruce's camper on Big Pine Key. I have for decades known of the dominative Key whitetail deer. To my surprise they frequently walked amongst us. They are a Federally threatened species at one point down to fewer than 50 animals. Now there are hundreds. Much of the island is now part of a refuge for them. Still dozens are killed each year by cars.

We did get out fishing for three days. Unfortunately the wind held pretty strong at 15 to 20 knots each day. We mostly fished along the route 1 bridges nearby except for Tuesday when we powered out to the reef some four miles out. Bruce has a nice 20 foot fishing boat that easily carried us out despite the choppy seas. The seas sprayed us but the water at 77 degrees felt more like bath water with air temps in the 80's each day. And except for the wind driven spray we were practically rain free until our trip back to the airport Thursday.

We caught lots of fish. But most memorable will be the ones that got away. Monday as we were fishing the route 1 bridges I had quickly caught some nice, but smallish, groupers and snappers. And how the tide runs under these bridges. But suddenly I got a hard hit that took off my line with the reel screaming. And the fish just headed off with no stopping it until it managed to break off. Then came the big events of Wednesday. Derek had a nice jack gravel on near a bridge piling. He fought the fish well and the fish had run up above the boat and he was coaxing it back when suddenly out of the deep a huge fish headed for his fish. I at first thought it was a shark, but Bruce quickly identified it as a giant goliath grouper. Probably close to 500 pound. This thing was enormous and practically came to the top of the water after the gravel. Then just backed off as Derek fought his fish to the boat and we released it. All the time as we hovered over his fish we could see this giant figure laying just beneath us. A few minutes later several schools of giant tarpon where feeding by within casting distance. And did I cast, but to no avail. What an awesome sight to see these huge fish near our boat.

I was surprised to see close to a two foot tide at the boat dock a few yards from the camper. Now these islands are just barely 3 or 4 feet about that high tide mark. And for the most part all the islands are just barely above high tide and not a hill to be seen. It sure makes sense that these islands and the people are so vulnerable to hurricanes. I can't believe the none flying wildlife has survived there for centuries. I would expect a hurricane to sweep them clean of life.

Which also got me wondering how they will survive climate change and a surging rising sea. Most prediction I have seen of late show a 6 to 9 foot rise in sea level this century. These islands will simply disappear in my granddaughter's life time.

Since I have had a long time interest in bats, Bruce drove us West a few more islands one morning to see the giant bat house erected in the early 1930's as a way to combat the insects there. Apparently the fellow who built it shipped in a rr car full of bats to stock it with. But since bats are real good at returning home they never stayed. But a valiant effort at biological control nearly a century ago. All in all a wonderful fishing trip with lots of beautiful country to see and experience.
---
Previous Note

2012-03-09 Back to spring in just one day

Next Note

2012-03-20 It's time to think frogs and salamanders in New Hampshire