Solving Problems with Nature - Naturally


ERIC P. ORFF
Certified Wildlife Biologist
Wildlife Author - Wildlife Lecturer - Wildlife Photographer
Non-Lethal Control of Bats since 1983
nhfishandwildlif@aol.com
NH Nature
New Hampshire Nature Notes by Eric Orff
Wednesday 12/21/2011 Winter arrives. Skim ice, frozen tracks and a puffed up chickadee give it away.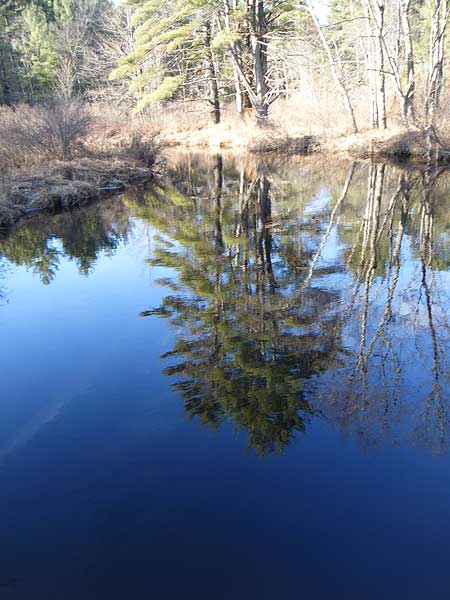 I took my hour long hike that takes me into Bear Brook State Park, near my home, yesterday morning. Here it was deer tracks frozen in time that told me winter was at hand. Even the dry sand I walked on for a short stretch had hardened into a cement like from as I trod along. Deer tracks where the signature of the local stars in this walkway.

Further along Bear Brook itself had taken on the dark blues of winter from the slanted rays of the late morning sun. A majestic white pine tree glowed more in the reflection of the near frozen stream rich in color.

Yes it is a time for reflecting. My mind wandered back across this year as I ambled along in the stillness of winter. Even the wind was but a whisper in the tall pines along my path. A long chilly wet spring came to mind for a moment adding a chill to my walk so I picked up my pace in walk and mind. Summer raced through my mind as it does through a year. Warm sunny days at camp with the grand kids, refreshing days helping Jean pull his lobster traps as the sea rolled softly under our feet, feeling the refreshing feeling from a hot day as I swam in the Suncook River, yes summer thoughts can warm your soul on a cold winters walk. And fall, oh the smells of fallen leaves and watching the wind sweep the trees of them on a stormy fall day. Deer hunting with family and friends. Fall is a time for pulling people together whether it is hunting or Thanksgiving.

A lone hunter came along my path from the opposite direction. A bright white object he was carrying caught my eye even when he was a distance away. As he neared I could see that it was a snow white colored snowshoe hare. I felt sorry for that rabbit. Not that he was dead and soon no doubt to be in the hunters pot. But it was white snow white. And not a flake of snow to be found. For all those doubters about climate change I would ask them "So what about our rabbits?" How will they now survive a world full of hungry eyes when they are white and the earth remains brown. I read that only 12 of 53 New England ski areas were open going into the end of December. So snow is scarce region wide. How can a snowshoe hare evolve quickly enough back to brown year round as human induced climate change shifts the snow belt so quickly? Don't these doubters too see the changes about them?

And lastly I had to stop while bringing in the paper this morning to greet my chickadees at the feeder that hangs by my back door. Puffy chickadees. They double the number of feathers over winter and puff them up for insulation. And I always stop to listen to the chickadee chatter. Oh yes they do sometimes scold me for interrupting their feast. They who have shivered all night long to survive just one more night. How I would like to scoop them up to warm their hearts as they warm mine. I like to think we do connect in some way as I turn to allow them their needs. Yes winter is a time for thinking, wondering, reflecting.
---
Previous Note

2011-12-07 Skim ice, no ice, skim ice, no ice, skim ice...no ice... a vicious cycle.

Next Note

2011-12-22 It's "ice in" on the Suncook River in Epsom