Solving Problems with Nature - Naturally


ERIC P. ORFF
Certified Wildlife Biologist
Wildlife Author - Wildlife Lecturer - Wildlife Photographer
Non-Lethal Control of Bats since 1983
nhfishandwildlif@aol.com
NH Nature
New Hampshire Nature Notes by Eric Orff
Thursday 12/01/2011 Where are the ducks? And back to the Suncook River dam removal site.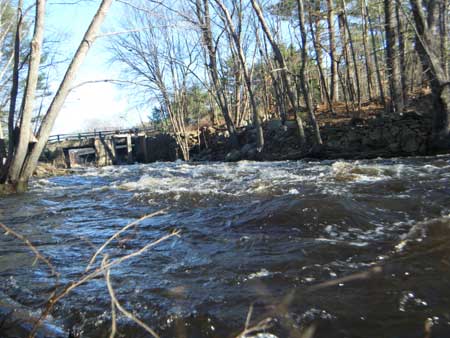 Where's winter? For that matter I am hearing from my fellow duck hunters "Where are the ducks?" Well winter, let alone fall seems to be missing here. Let alone to the north in Maine or even eastern Canada it seems. There is not a bit of snow or ice to be found across much of the northeast. Consequently the ducks remain north of us. It is the formation of ice that pushes the ducks south from their northern perches and there just has been no ice and not enough cold weather to push them our way.

I stopped by the Suncook river dam removal site at Buck Street in Pembroke/Allenstown again this morning. All the construction equipment is now gone and so is any remains of the old dam debris. The pile of concrete and debris by the west dam has been removed and the area looks terrific. I couldn't help but enjoy the sound of the rapids. There just is something about the sound of running water, not a flood, that is soothing. In fact I was able to stand mid island between the two old dam sites and hear stereo flowing water. Neat indeed. I snapped a few picture of the free flowing river to capture the moment.

When I got home early afternoon I noticed the magnolia tree at the edge of my driveway sure has huge green buds. I'm hoping this record setting November doesn't fool the buds into beginning to open only to have them killed by winter, when ever it should arrive. I think I heard on the weather that Concord had 6 or 8 days above 60 degrees in November. The month will come in at first or second place for being the warmest November on record. And apparently the year, 2011, will come in as one of the warmest years on record as well worldwide.

While the ducks have not been driven down with the usual cold November the warmth has kept the winter sleepers awake. Last week my mother called to report her dog tangled with a skunk in the last let out of the night. And I have had reports of bears still about hitting bird feeders. There three weeks late in winter nap time. So this unusually warm fall is having all kinds of impacts on our environment. And it looks like we are in for more warm days early next week. We'll see.
---
Previous Note

2011-11-21 A river's silence is broken

Next Note

2011-12-07 Skim ice, no ice, skim ice, no ice, skim ice...no ice... a vicious cycle.