Solving Problems with Nature - Naturally


ERIC P. ORFF
Certified Wildlife Biologist
Wildlife Author - Wildlife Lecturer - Wildlife Photographer
Non-Lethal Control of Bats since 1983
nhfishandwildlif@aol.com
NH Nature
New Hampshire Nature Notes by Eric Orff
Friday 09/02/2011 Irene shmyrene, not much of a storm here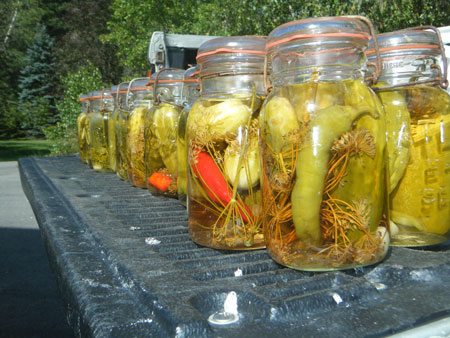 So much for Irene. Good by and good riddance and how sorry I feel for our friends in Vermont and to the north. Here the lights flickered all morning long Sunday as the storm wound up to its peak around noon. Then the rain was letting up as well as the wind when we lost power around 2 pm. And just four hours later it was back on, well before dark. By storms end my rain gauge showed 3.9 inches of rain. I actually had that same amount the week before with an hour long cloudburst here in Epsom. The Suncook River climbed to full bank, what I call a low level flood stage and that has been it. The Merrimack River in Concord looks bank full as well and runs chocolate brown but really no flooding in these parts. I certainly expected more and had fuel for the generator and plenty of water on hand for a longer bout of no power. But, hey, it's early in hurricane season and with another one just over the horizon. We'll just have to wait and see what happens.

Home here on the canning front. I put up 20 quarts of dill pickles and 7 quarts of dilly beans at my Mom's Thursday. And this week I have added another 14 quarts of dill pickles and a dozen more pints of bread and butter pickles and I now have a doubly batch of zucchini piccalilli that I will can later this afternoon. So bring on the hurricane I've got my supplies well in hand. I may be a bit pickled by the end of it all myself.

Seeing turkeys galore. Seems like everywhere I go I'm stopping to let a troop of turkeys cross the road. This morning it was a couple of hens and more than a dozen bantam sized poults I had to stop and wait for. Although my deer sightings seem to be down lately. Good news on the acorn front as I am seeing both red and white oak acorns locally. We are overdue around here for a good nut crop. And I was watching a blue jay pull beechnuts from a local tree as well the other day. Seems like a good nut year around here. The farmers corn has fared well as well. I was worried with the late start and the cool rainy summer that it would fail to grow good. But it is over head high now and the ears seem to be filling. All bodes well for a good fall season at this point barring a storm disaster.

Seems like I have seen far fewer juvenile American toads this year compared to normal. I've seen less than a half dozen compared to usually hundreds most years. I have a gray tree frog calling daily in the trees around my house. Usually they sweep by my house each May, spawn down back, then head back across the road leaving me in silence. But not this summer, as I seem to have a resident frog about. I do have a couple of good sized toads that I see frequently in the driveway. I make a special effort at night to look for them when driving in or out. A large toad my very well be a teenager, older than your dog can be. Bats are still dancing about the evening sky as I look out over the Suncook River at sunset. Plenty of crickets as well. We have been in a warm trend with no frost in sight. Not like the morning of August 29, 1976 the year my daughter was born. With my wife in labor for hours already, I took a quick break to go buy the Sunday paper at dawn. I had to scrap a thick layer of frost off my windshield to do so. And the daughter held off to late afternoon so I could enjoy the Sunday paper. Thoughtful even then.
---
Previous Note

2011-08-25 Canning pickles today

Next Note

2011-09-09 Color me fall