New Hampshire Nature Notes
by Eric Orff
Of gorgeous green grasshoppers, tiny tot toads and my little bug girl. The circle of life is forming.
Thursday 07/23/2009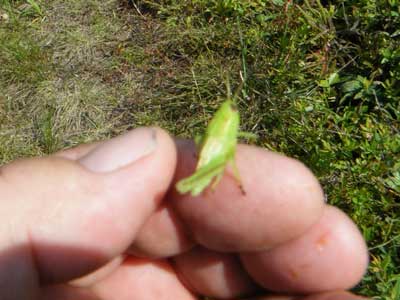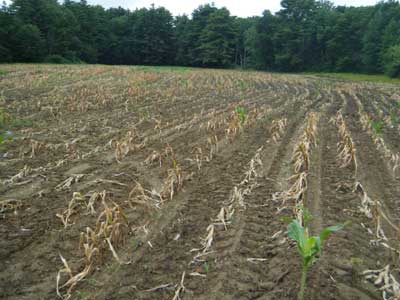 August belongs to the insects. Long gone are the bird songs of spring. Even my little house wren in the back yard has fallen silent this week. Summer, or rather the lack of summer, has not slowed the season's move into late summer. I did pick my first cherry tomatoes from the vines along the south side of my house this week. The blues berries are pretty ripe but will be better for picking next week. On Monday I joined my friend Jean for his weekly check of his lobster traps in Portsmouth Harbor. We had real good luck this week with 7 keepers. Two of the largest ones traveled home with me and were cooked for dinner that night along with new potatoes from my garden. A treat for kings it was. My wife and I were helping to celebrate the 40th anniversary of the landing on the moon in style. I did watch for the space station to go by just after sunset but enough clouds had drifted in the block my view. All this week the station is visible after dark. I go to heavens-above.com to get the schedule of passes.

Over the weekend my wife and I joined my daughter and her family camping on the Saco River in Conway. We had some luckily warm days but the river's water was pretty cold. As we all sat around the camp fire just after sunset Saturday night we were talking about the space station and wondered aloud if it would be visible. My son-in-law Derek took the laptop and went to the web site mentioned above. He said" According to this it is over the Great Lakes right now." He asked me "How long before it gets here?" I said "Oh, in about a minute or so." He told my granddaughter Katie to look in the sky for the space station. Not thirty seconds later she exclaimed "There it is!". And sure enough it swept across the whole northern sky. What timing! We sat and watched another 8 or 10 satellites wiz by in the next hour or so.

In my Monday hike which takes me through a local farmers wood lot and across a small corner of Bear Brook State Park I spotted a green grasshopper. I have always marveled at them. I couldn't help but catch it to hold it and study it's beauty. I have always been fascinated by green grasshoppers. I remember as a young boy catching some real big ones in the hay fields of northern Maine. They can so blend into the blades of grass. Green grasshoppers are just one of those animals I can't help admiring. It appears that my three year old granddaughter Erin is closing the circle of life on me. She is our "bug girl" Just like me as a child she can't help herself catching things. Mostly bugs at this point but a frog has her very excited as well. I notice that when we are outside she is constantly looking down for insects on the ground and is quick to scoop one up. I think we have a biologist in the making. It sure does warm my heart.

I did spot a tiny tot toad while working in my garden. I have NOT had the hundred of them migrating up from the meadow below me next to the river and all across my lawn. I have been looking for them and they are at least a week or so late, if they come at all. I have not had a single bull frog calling here this year. This is the first summer in thirty one that I have lived here that they have not called. As I mentioned earlier, even the tree frogs did not actually spawn in the meadow down back this year. I had a few in the trees around the house for a couple of week, but they never amassed down in the meadow to call and spawn this year. Nor have I heard a green frog calling here yet this year. It definitely has been a terrible year for the local frogs here. And of coarse young frogs are a great source of protein for other animals. The web of life has a tear in it this year at my place.

The terrible spring and early summer conditions is very evident in the farmers cow corn crop in the 10 acre field parallel to the river below me. The corn is stunted and now is withering and mostly dead. What a loss for our local Farmers the Yeatons. Not only are they being impacted by milk prices that are too low, but now the feed they will need for this winter has died in the fields. I am worried about our local farmers. They bring such an important culture to our town and I fear that these conditions of low milk prices and a poor feed crop could do them in. I hope not.

I did spot two turkey hens this week not far from my house. They had but one poult between them. I did see five hens in Concord yesterday with 16 babies between the group. That is the first clutch of any size that I have seen this spring/summer and the single one on Tuesday was my first. I mostly am seeing hens without young. There certainly is plenty of water as even the smallest of brooks are still making lots of noise with plenty of water in them. Most of them would normally be barely running by this late in the summer. Based on the Suncook River gauge in Chichester the Suncook has been running at twice its normal flow for this time of year.
---
Previous Note
2009-07-14
busy summer so much to do and so little of it left.
Next Note
2009-07-31
Will the garden produce this summer? If it smells like the sea....
read the note