Solving Problems with Nature - Naturally


ERIC P. ORFF
Certified Wildlife Biologist
Wildlife Author - Wildlife Lecturer - Wildlife Photographer
Non-Lethal Control of Bats since 1983
eorff@aol.com
NH Nature
New Hampshire Nature Notes by Eric Orff
Thursday 02/14/2008 Eric Orff goes to Washington.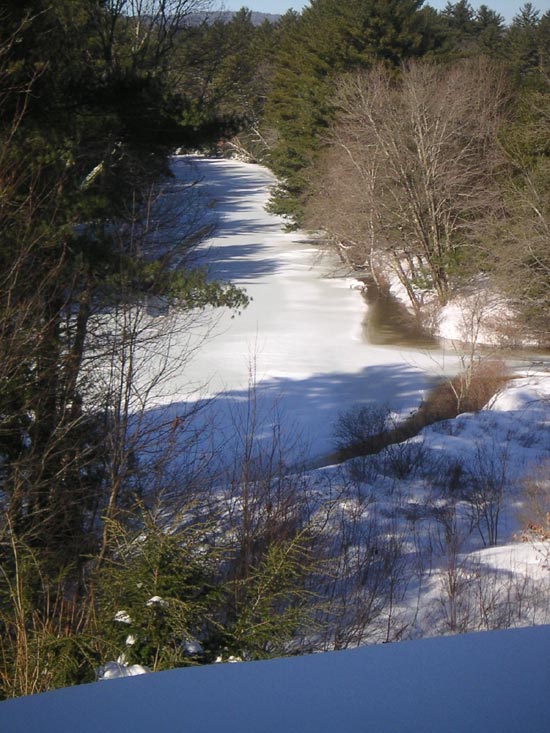 I headed down to Washington D.C. very early Tuesday morning for a day of meetings with folks from the National Wildlife Federation followed the next day by meetings I had arrange with our two NH Senators to ask them to support a bill pending in Congress that addresses climate change.
I took the 06:00 am flight out of Manchester to get to the meeting by a little after 08:00am. What a difference from the trip when we drove back overnight from DC back in November. That was a good ten hour trip. By night fall Tuesday night the sidewalk was glare ice as we skated a couple blocks from our hotel to the Iron Gate restaurant. At a noon press meeting in DC we had Davey Crockett from Virginia, yes a real descendent of Davey Crockett from our youth, and Simon Roosevelt a descendent of TR who both gave short presentations at the press event.
Wednesday we had a 10:30 am appointment at Senator Greggs office. By way of we I mean me and Jim Kennedy a vice president with the NH Wildlife Federation and Josh Borgeson currently on the BOD of the Belknap County Sportsmen's Association and a marine bio aide from the Fish and Game Region 3 office in Durham. We had a nice meeting with Gregg's Senior Policy Advisor Vanessa Green although the Senator was unable (again) to make it to the meeting.
Jim had great insight into the wildlife and plant changes he has seen over the last four decades as a wetland scientist from Hanover. Josh had the most interesting information to me. The last 5 or 6 years due to the increased summer temperatures the river herring runs on the NH seacoast has plummeted. Josh explained that the high water temperatures have depleted the oxygen in the coastal rivers and have killed off the millions of herring eggs deposited in the freshwater. This will be a real disaster for us striper fishermen as the river herring is a very important forage fish.
We presented the same information to Sununu's staff an hour and a half later to Dan LeClair and Adam Hechavarria. At this meeting we were pleased to have Senator Sununu stop into the meeting room to hear the information himself.
We pleaded with both Senators to co-sponsor or at least sign-on to the Lieberman/Warner Climate Security Act to be voted on by the Senate as early as late March. We brought signatures from over two dozen NH sportsmen's clubs and local sport shops who are concerned with climate change.
You can do your part by calling the Senators and asking them to co-sponsor the Lieberman/Warner Act by calling their offices. Senator Sununu at 202-224-2841 and Gregg at 202-224-3324. And while your at it, why not call Representative Hodes office at 202-225-5206 and Shea-porter at 202-225-5456. This will be a critical vote to reduce global warming gasses by two percent per year starting in 2012. Please ask your congressmen to act now on climate change while we can still do something about it.
Picture left to right- Josh Borgeson, Eric Orff, Senator Sununu, Jim Kennedy and Catherine Bowes from NWF
And back here at home I came home to a slushy then frozen mess to clean up. We had another good 6 or 8 inches of snow, then two inches of rain on top of it. Weird, weird weather this year. But this winter for the first time in three years the Suncook river just above my house seems to be completely frozen over at times. At least for a few days stretch in between warming periods. And it looks nearly frozen over this morning except for the rising water over the ice along the edges. This is definitely a tough winter on wildlife.
---
Previous Note

2008-02-08 Got Ice? Let it snow, let it snow,let it snow.

Next Note

2008-02-22 New Hampshire Sportsmen Take Aim at Congress: Global Warming Threatens Hunting, Fishing Traditions