Solving Problems with Nature - Naturally


ERIC P. ORFF
Certified Wildlife Biologist
Wildlife Author - Wildlife Lecturer - Wildlife Photographer
Non-Lethal Control of Bats since 1983
eorff@aol.com
NH Nature
New Hampshire Nature Notes by Eric Orff
Thursday 12/06/2007 Winter has arrived in a sleigh.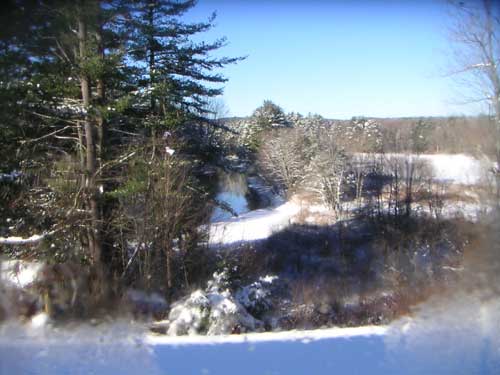 How this week has changed this part of New Hampshire. Winter arrived with a sleigh full of snow all day Monday and into the evening hours. We've got a good 7 or 8 inches of snow here in Epsom and we have a real winter like we have not had in years. It sure is looking like a white Christmas around here. One we have not seen in at least two or three years.
And how the temperatures have plummeted along with the bountiful snow. Since the snow arrived Monday I have awoken to temperatures in the low teens each morning which is freezing even the Suncook River up in spots. Northwood Lake froze over almost completely Monday night with the snow acting like a catalyst to freeze it up. Some different from last year when Northwood Lake didn't even skim over until January. I talked to F&G fisheries biologist John Viar Monday afternoon and he says some of the smaller ponds in the Lakes Region practically have fishable ice now. And he went on to declare that for the first time in years the big lakes may actually have enough ice for lake trout fishing on the opening day of the season January first. He says these are ice conditions he has not seen in years as well.
I stopped over yesterday morning to hunt in WMU-M near Great Bay with my antler-less permit. A spot where I had lots of fresh deer sign last week was completely devoid of any tracks. But the woods were full of robins bouncing and flittering about. The wet areas I was hunting around were ringed with bright red winterberry holly bushes. Though I didn't see the robins in them, my past experience has shown that they love these berries and are probably an important part of their diet in their southward migration.
Some years back I was duck hunting at a beaver pond near my camp in Maine. The pond was full of winterberry bushes with a bright red layer of berries all across the swamp. Just as sunset arrived so did a huge flock of robins. At first light the next morning when I went back the robins and practically all the berries were gone.
I headed home in the late afternoon for an hour hunt locally for bucks before heading to a McCain town-hall gathering in Manchester. It didn't take me long to be in a mix of deer tracks with a very buck looking track on a run. I stayed overlooking the trail as long as I could before heading to Manchester.
The Suncook River out my home office view sure is different from the last couple of winters. Ice is forming along the edges with nearly a complete carpet of ice right by the 90 degree bend by my house. It's kind of nice to see ice back on the river. A huge high pressure ridge over the Arctic Circle is sending us a steady stream of winter. Hard to say how long it will last, but for now we are having a more traditional winter. I'd say it has been close to a decade, based on my memory, since we have had a December winter blast like this one. Here's to a white Christmas to be remembered.
---
Previous Note

2007-11-30 New Hampshire's Restless Bears

Next Note

2007-12-17 Walks in a winter wonder land.