Solving Problems with Nature - Naturally


ERIC P. ORFF
Certified Wildlife Biologist
Wildlife Author - Wildlife Lecturer - Wildlife Photographer
Non-Lethal Control of Bats since 1983
nhfishandwildlif@aol.com
NH Nature
New Hampshire Nature Notes by Eric Orff
Wednesday 03/21/2007 Spring break, NOT, a break from spring though.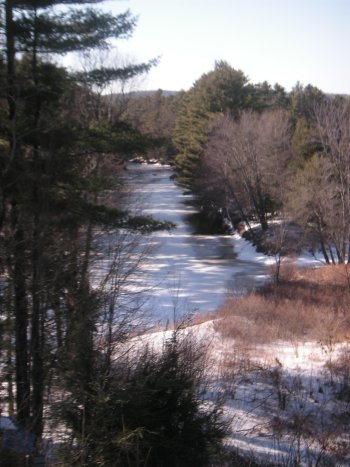 Oh how quickly spring can disappear. Last week's hope for an early spring was quickly smothered by nearly a foot of heavy wet snow and a crust of ice Friday afternoon into Saturday. Then to make matters worse, the thermometers took a turn south as well, dipping down to only 7 degrees Tuesday morning and 10 this morning. But the sun has given us some hope by warming the days into the thirties by mid afternoon.
Sap buckets are trimming the maples here and there and the tufted titmouse and chickadees are still calling their spring calls. So there is hope at least. Last week I figured by now the ducks would be on the move pushing through NH. Not so yet, but I bet by next week ducks and geese galore will be streaming through the state.
I'm hoping for at least a little snow melt to make things easier going. I headed out to check a couple of potential deer yards yesterday based on some great new maps I got from Katie our F&G GIS guru. These maps show potential deer yards based on the ground cover as determined by satellite imagery. I headed south to Raymond hoping for less snow. We have a foot or so in Epsom with an icy crust. Not one that holds me, but one that you need to break through twice with each step. Once going down and another back up with the foot. There's really not enough snow for snow shoes, besides the wet snow would just stick to them, plus dragging a snowshoe back up through that crust would make walking three times as hard.
So I sloshed into the first prospective yard along the lamprey River in Raymond with about ten inches of snow on the ground. The hemlock cover was there a little bit. A recent cut had removed the over story and the open under story had some hemlock, but not nearly enough for deer to yard in. My second stop was more fruitful, but by now the afternoon sun was melting things and water was puddling up in the depressions. So it was snow and slush that had to be coped with. There was lots of old deer wintering signs in this yard, a little new from this winter, but not a fresh track to be found. The deer are somewhere else now. By mid afternoon a good breeze was blowing. In fact blowing so hard that tree branches and tops were snapping off as I hiked along. The tall pines and hemlocks were roaring in the wind. I kind of had a heads up for one of those falling tops but had none nearby. It was slow going and I was beat by the time I got out of the woods around 4.
The Suncook River is slowly thawing from my home office view. One edge has opened up under the maples. I'm betting that within hours of when there is a hole open in the middle of the river a pair of hooded mergansers will be claiming it. My guess is that is going to happen in the next few days. That's a real good sign of spring that you can take to the bank!
---
Previous Note

2007-03-14 Thank you Rokon and spring robins roaming.

Next Note

2007-03-27 It's "duck week" in NH.