Solving Problems with Nature - Naturally


ERIC P. ORFF
Certified Wildlife Biologist
Wildlife Author - Wildlife Lecturer - Wildlife Photographer
Non-Lethal Control of Bats since 1983
nhfishandwildlif@aol.com
NH Nature
New Hampshire Nature Notes by Eric Orff
Friday 10/19/2007 Full splendor of colors on a warm foggy fall day.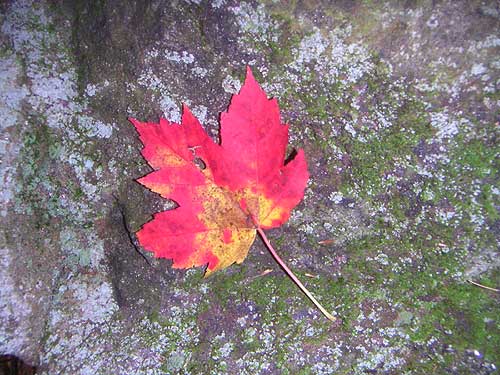 Today is overcast with fog smothering the tree tops of sunlight, yet the beauty and splendor of the day could hardly be matched. It is brilliant outside this warm fall day. The maples are at peak around my house and of my view up the Suncook River.
This morning I went out duck hunting a bit with my son-in-law Derek. Nary a duck did we seen but the morning was filled with glorious colors. We drove part way into a beaver pond on a woods road, then hiked into the tranquil marsh. One brilliant maple leaf lay on a stone on a wall as we drove in and I couldn't help but stop to gaze at it a minute and snap a picture. The leaf lay like a blazing star on the moss covered rock cradled in the wall. My hike to the pond's edge was no less dramatic. As I crept towards the marsh a slight breeze sent a shower of rainbow colored leaves in shades of yellows, reds, oranges and even purple dotted ones drifting to the kaleidoscope colored forest floor. What beauty surrounded me. As I crept to the ponds edge the tree lined shower was even more powerful in colors. It was a spot perfect for the moment as I gazed out of the gray-blue waters. Hunting is so much more than hunting for me. It brought me to this glorious moment in time and was perfect without a duck to be seen. As I walked the ponds edge toward Derek green frogs scattered from my steps into the still green marsh grasses. This is something more typical of late July, not late October. Derek and I sat at ponds edge for a while to indulge in the beauty.
It's in the 60's again today despite the clouds and lowery conditions. I have not had a frost yet at my house, though my mother a mile south of me had a frost covered lawn Monday morning. My tomato plants up against my house are still lush and green without so much as a frost bitten leaf, and green tomatoes hang from the vines. It's hard to believe I still have vine ripening tomatoes in late October. Two decades ago the plants in this very same spot never made it into the second week of September. Mondays forecast is for temperatures to be near 80 degrees.
Turkeys, turkeys every where it seems. I saw several flocks in my travels this morning in Epsom. I have not had similar luck in my few searches of my grouse and woodcock covers locally. I have yet to flush a bird. The NH Fish and Game Department actually moved the woodcock season into the first week of November this year based on hunters request because the migratory birds are a full two weeks later migrating through the state now with global warming. The coastal duck season has been pushed back to end in mid January for the same reason, also by hunters request.
Moose season starts tomorrow with temperatures into the 60's and possibly warmer. Not great moose hunting weather as they now are sporting their winter coats and will be not moving in this heat. Plus there is a danger of meat spoilage in these temperatures. What a difference from the first moose season in 1988 when snow threatened the opening day. A group of us huddled in the tiny office space at the Twin Mountain Hatchery with a heater whirring away directly over our heads. The press, that were gathered outside, took turns rotating into the little space to warm up through the morning until our first moose arrived at 1:00 pm. It was to be the first moose registered in NH since the season closed in 1900.
---
Previous Note

2007-10-11 A steady rain of three days has given voice to the local brooks.

Next Note

2007-11-06 A carbon copy of last year?