Solving Problems with Nature - Naturally


ERIC P. ORFF
Certified Wildlife Biologist
Wildlife Author - Wildlife Lecturer - Wildlife Photographer
Non-Lethal Control of Bats since 1983
eorff@aol.com
NH Nature
New Hampshire Nature Notes by Eric Orff
Monday 05/07/2018 Leaping into summer-like conditions.
Well spring was but only a couple of days long it seemed. Winter or at least winter like temperatures just have hung on all through late March and all of April. Temperatures have run pretty much ten to fifteen degrees below normal for this time of year for two months.
But this week that all changed when temps hit the 90's on Wednesday and nearly so on Thursday. I was thinking that leaf out on our local trees was going to be at least a week or maybe even ten days later than most years. The 90's sure leaped things along. But it still looks like a late spring for us this year. It has been a cold damp spring at that. Even the spring peepers, salamanders and frogs were out a good two to three weeks behind most years of late. Here again the spike in temperatures this week set off the tree frogs to start calling and the toads to start trilling yesterday.
The local dairy farmer started preparing his fields this week for planting his silage corn. Most years he would be planting corn by this time. So maybe a week later on that. Although as I recall last year he planted his corn late too. While I grew up some years in northern Maine on a farm and actually don't mind the smell of the manure being spread nearby my wife is not so excited to smell it. Ah the smell of spring.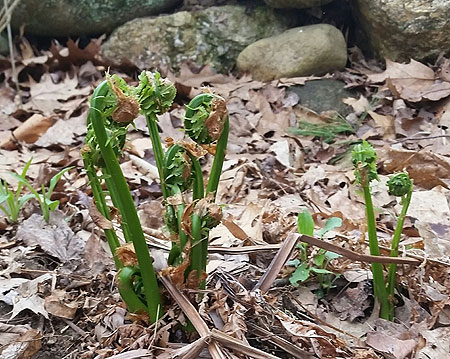 Monday I raked some of my lawn that was right near the corner of my yard that I planted ostrich ferns in decades ago. Now I have quite a garden of edible ferns called fiddleheads. Here too the two hot days sprung these things out of the ground. For it is the small unfurled heads of the ferns that are called fiddleheads and are delicious. To my surprise last night I happened to glace over at that corner of my yard only to see some of them way too high to pick. But this morning I gathered a good bunch of fiddlehead to eat and share with family and friends.
I was thinking I might get some of my garden in this week but yard work has kept me away from garden work so far. Other happenings here in the yard is that we have a female cardinal nesting in a yew right outside our dining room window to the north. You can look right down at her or into the nest. I've had some sparrows around this week as well as a brown thrashed and the usual jays and crows. I took in my black oil seed feeder a few weeks ago but I am seeing if I can still throw out some whole kernel corn, cracked corn and some millet to keep some of these birds around and not attract a bear. So far so good.
While we may still be running a little late in this spring it won't take a few warm to hot days to get us back on track. In fact by this afternoon while doing yard work the black flies seem to be getting thicker by the minute.
Hello summer!
---
Previous Note

2018-04-13 Waiting for that April moment.

Next Note

2018-05-18 Sliding towards summer by the hour.