Solving Problems with Nature - Naturally


ERIC P. ORFF
Certified Wildlife Biologist
Wildlife Author - Wildlife Lecturer - Wildlife Photographer
Non-Lethal Control of Bats since 1983
nhfishandwildlif@aol.com
NH Nature
New Hampshire Nature Notes by Eric Orff
Monday 11/21/2011 A river's silence is broken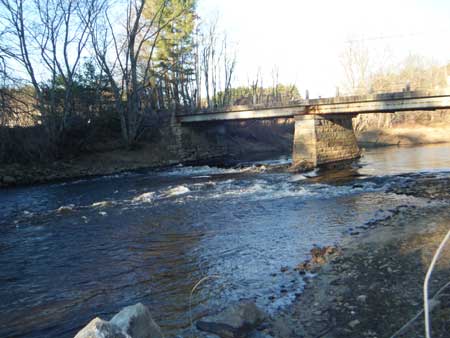 I stopped at the site of the old Buck Street dam in Allenstown this afternoon. Here for the first time, in probably close to 200 years, the Suncook River was able to speak to me. Not in the low murmur of water swishing over the dam as has been the case the 40 years I have come to know the Suncook. But in a babble of free flowing rapids beginning beneath the old bridge crossing the river and sweeping down through the tongue of water now messaging the river bed. No doubt there has been a dam at this site since early colonial times. But now laying before my eyes late this afternoon in the slanting light of late November was a free and spirited river.

I have stopped often the last couple of months as the east dam near route 28 was removed leaving on side of the river kind of free flowing. But the old historic control structure left there still blemishes the river in my view. But the more expansive west side dam has been diminished to just the wing wall. The dam itself is gone! What a magnificent sight to see.

Now I must say having lived upriver of the dam some 32 years, that I did in fact kind of like the old slow moving, full to the banking river, that I frequented most of those years. We had a home built raft tied to a tree at rivers edge. My family spent many a day or evening drifting along the river propelled by a quiet electric motor when needed. My kids grew to love and use the river as well. The river's edge was a great place to raise a family.

And it still is in many ways. It just is a very different river since the Great Mothers Day Flood of 2006. Since then the dam boards have been kept out of the day so my rafting day were done any ways. so the dam might just as well be gone leaving a 15 or more mile stretch of the Suncook River with no barriers for fish movement. I'll gladly defer to the fish now. It's still a wonderful river, just a wonderfully different river.
---
Previous Note

2011-11-11 Interesting date and so much to cover

Next Note

2011-12-01 Where are the ducks? And back to the Suncook River dam removal site.