Solving Problems with Nature - Naturally


ERIC P. ORFF
Certified Wildlife Biologist
Wildlife Author - Wildlife Lecturer - Wildlife Photographer
Non-Lethal Control of Bats since 1983
nhfishandwildlif@aol.com
NH Nature
New Hampshire Nature Notes by Eric Orff
Friday 06/17/2016 Simmering into Summer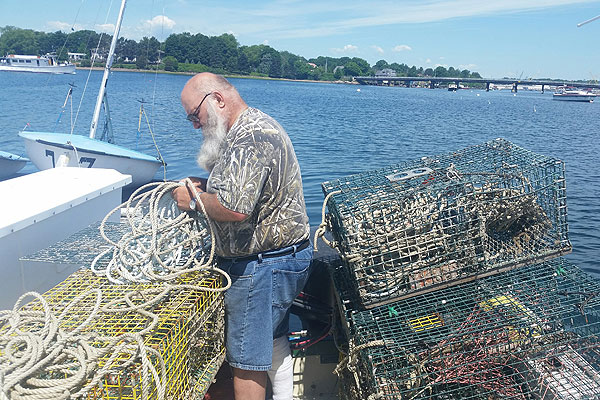 Looks like we are back on track for summer. The cold rainy days of April followed by a cold cloudy, but dry, May had me wondering if it would ever warm up. Now this is more like our usual summer conditions. I delayed getting my garden into the ground with the cold ground and very cold nights in May, many on the edge of a frost. In fact I didn't plant things until the last few days of May. So far things are looking good though the soil was pretty dry when I planted things and I have neglected to water as I should be.
I did help my long time friend Jean get 20 lobster traps in yesterday. Even we were late in getting them in. It seemed so nice to be on the sea again. In fact not only was I at sea in the morning but last evening just before sunset I got back over to the coast for some striper fishing with my son and son-in-law and a couple friends. And we caught stripers, though no "keeper" over 28 inches long. We all had fish on before calling it quiets about 10pm. So a good shakedown cruise for the boat and crew.
I did manage to see a bear Wednesday morning on my way up to Lancaster. It was grazing in a lush green field in Twin Mountain. Funny as I was driving along I passed a road to my left just after the state hatchery that jogged my memory. It was out that road as a young bear biologist about 35 years ago that I tagged a bear. I was searching my memory for details of that day when I spotted this live bear not a hundred yards away. I can't help but wonder if it was some descendant of the bear I tagged so long ago
Down here in Epsom wildlife has been pretty scarce except for the ruffed grouse male that moved into my yard and stayed for a month. It would set on my deck railing waiting for us to let the dog or cat out in the morning. Then chase them. My dog went after it at first, as any good bird dog would. But I coaxed her into just tolerating it so it would stay around. And stay around it did for a month. In fact a couple of Sundays ago I noticed its wing tip was all messed up. So I went out and caught it to examine it. This is the second grouse I have ever caught by hand. Just some twisted feathers and it flew off like a rocket ship out of my hands. I was worried I had scared it off. No, the next day it was back. But we have not seen it in six days now. Some male grouse get really aggressive in the spring and will attack anything in their territory. This was the third one in my life that I have seen be aggressive to people. Kind of unique. I had not seen a grouse here on my land in the 37 years I have lived here until this past winter when on was feeding on the crabapples along the north border of my land by the house. Now to have one practically move in. Well it actually did. In fact I have a video of the grouse coming into my house coming in to harass my dog as she set on my enclosed deck. Now that was a first for me.
The local farmers corn is coming up well and he has already chopped hay and is now bailing some. Yes summer really is in full swing and I hope to enjoy every last minute of it.
---