Solving Problems with Nature - Naturally


ERIC P. ORFF
Certified Wildlife Biologist
Wildlife Author - Wildlife Lecturer - Wildlife Photographer
Non-Lethal Control of Bats since 1983
nhfishandwildlif@aol.com
NH Nature
New Hampshire Nature Notes by Eric Orff
Monday 04/27/2009 Summer has arrived. The sweet smell of fresh tilled soil in the garden and giggling grand daughters in the dirt.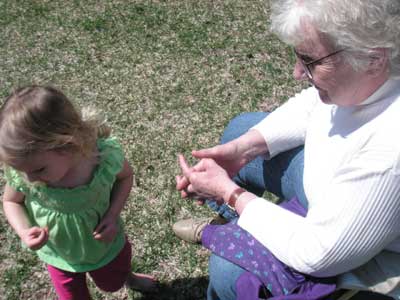 Gee wiz spring sure is whizzing by. A cool dry spring suddenly turned into a blistering summer set of days it seems.

There is lots to catch up on. I did head south to Virginia on the 17th to spend a couple days with my son before going on to a National Wildlife Federation Fly-In in DC. It was in the 80's and very summer-like when my son and I headed up to the Aberdeen Proving Grounds in Maryland Saturday for the day to check out the armor/artillery museum. I have had an interest in WW II since a child we spent the day among guns, tanks, artillery and anti aircraft weapons of the WAR. There were a couple of WW I tanks as well and I had my picture snapped by one of them in good condition. Friday night at his place the spring peepers were in full chorus just as they are here but no toads. The summer Saturday temperatures had them singing by nightfall there and this weekend's 80 plus degree temps here now has our toads in full son down back. The 400 mile gap in spring was closed by our summer like temperatures since last Friday. While at the NWF Fly-In I had a chance to visit the offices of our Senators and Representatives. At Senator Shaheen's Wednesday morning "coffee house" I had a chance to speak to the Senator about the need to move forward an energy bill this session and had my picture taken with her.

I headed up to my camp Friday morning in Maine to open it up for the season and to catch the anticipated summer-like weather. Actually on Saturday there was a pretty cool southeast wind blowing in from the sea the kept it comfortable there compared to the 91 degrees my daughter reported in Concord for Saturday. Sunday was mush warmer there too though. Very nice. The lake was very high and the waters were cold and the fish were not very cooperative. I must say I had great company though. I was the only person on the lake both days but had an osprey chasing an adult bald eagle around the lake when the two were not fishing alone. I so enjoyed their company. They too seemed to be having a slow day of fishing as I didn't see the osprey plunge into the lake once.

Here at home it was back near 80 degrees today and was the opening of the garden day at my Mom's. My son-in-law Derek brought down my two granddaughters as helpers. In no time flat we had rows of peas, carrots, beets, potatoes in the ground as well as a few other seeds. Two year old Erin was infatuated with a little brown beetle I caught. I snapped a picture of Erin, Katie and my Mom, Mary, in a row with the girls in the garden. Four generations at work putting in the garden. How cool is that. The soil is warming quickly and if the weather doesn't turn cold and wet we should have peas and potatoes by the 4th. Not only is this spring whizzing by but life as well it seems as I gazed at our "garden crew".
---
Previous Note

2009-04-17 Its just ducky here

Next Note

2009-05-07 Sweet, sweet smells of my plume tree blossoming and toads trill away.